I just wanted to tell everyone "Happy Thanksgiving"!
And to let you know that I finally got the shorter works bundled together in one book! (I'm a few months behind!)
I did go ahead and put The Healer's Heart and The Wolf God & His Mate in the omnibus so that it would be a complete set. I do plan to format The Wolf God into a freebie to put on Smashwords and this site sometime next week! And rest assured, the freebies that are on this site, will remain on this site. I can't see ever charging for a story that I've had posted for free for so long!
Anyway, here's the first link! Amazon's will come some time tomorrow! BN, Kobo, and other retailers can take up to two months, so for you Nook users, I'd suggest Smashwords…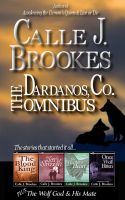 SMASHWORDS: The Dardanos, Co. Omnibus by Calle J. Brookes